SchuhBak
Development of antibacterial, anti-adhesive and odor-binding footwear materials
The risk of contact with pathogenic microorganisms, bacteria and fungi, is omnipresent on all surfaces and can lead to infections or diseases. To counteract this, new biocides are constantly being developed and commercialized to disinfect surfaces or inhibit the reproduction of microorganisms. The active ingredients often contain alcohols, peroxides, phenols, halogen-containing substances or consist of metals such as silver or copper. In addition to the desired effects, these products often exhibit side effects/disadvantages. These include their toxic effect on the environment, their corrosive behavior, a more or less pronounced physical and/or chemical instability or their negative effects on the human skin flora.
In this context, clothing serves as a protective barrier to prevent direct human contact with microorganisms. Regular washing of textiles removes the microorganisms and reduces the risk of infection. The problem, however, are textiles that cannot be washed easily, such as shoes and their insoles. Due to the daily wearing of shoes for hours, the accumulation of heat and moisture, as well as the entry of microorganisms via dust and socks, microorganisms can multiply excellently.
The overall objective of the research project is to develop and manufacture shoe materials that are both anti-adhesive (reducing the adhesion of microorganisms to the surface) and antimicrobial and additionally adsorb odorants. For this purpose, polymers with a positive surface charge (antibacterial) are used, which are modified with zwitterions (anti-adhesive) and odorant-binding molecules.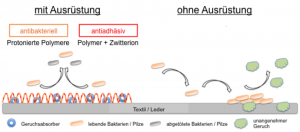 Project information:
Title:                            SchuhBak – Entwicklung und Herstellung von antiadhäsiv ausgerüsteten Schuhmaterialien zur Reduktion von Keim- und Geruchsbelastung
Acronym:                   SchuhBak
Grant:                         ZF4139705SK9
Runtime:                     01.08.2020 – 31.07.2022
Project partners:        Leder Brinkmann GmbH
Contact at DTNW:
Omid Etemad-Parishanzadeh Tel.: +49-2151-843-2027, e-Mail: etemad-parishanzadeh@dtnw.de,
Weitere Informationen zum Download: