Solvent-based nanofiber finish
Nanofiber fleeces i.e., fleeces made of fibers with a diameter of less than 1 µm, have extremely fine pore dimensions with high porosity and can e.g., serve as a barrier membrane or depot system, but the production is relatively expensive since it is usually done via electrospinning or the melt-blown process.
Deposition of nanofibers from solvents would offer a cost-effective alternative to the spin methods. Therefore, a method for the production of nanofiber suspensions is to be developed, which is based on delaminating fiber polymers along their fibril structure into nanofibers. Commercial nanofibrillar cellulose is produced in this way, and the production of stable nanofiber suspensions from Kevlar, chitin, chitosan, or polyacrylonitrile has also been reported. In our own preliminary tests, we were able to produce polyamide nanofibers. In order to place this top-bottom approach on a broad basis, a screening to identify the polymers that can be processed into nanofiber suspensions is necessary. Common industrial processes, e.g., doctor blades or padding, are aimed at as application methods.
Nanofibers have a high application potential in filtration, as they significantly improve the separation performance for nano and microparticles in gases and liquids. This novel access to nanofibers can also be advantageous for the production of membranes for tissue engineering, nanofiber composites or carbon nanofibers.
The areas of application of nanofibers are very diverse, so not only SMEs from the textile sector, but also SMEs from the fields of nanotechnology or biomedicine may benefit from this method. Hence, these companies have a high potential to bring new nanofiber-based products and technologies with international sales potential to the market.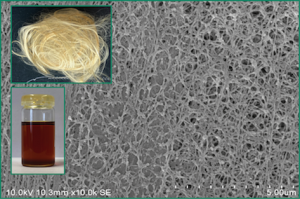 Project Information:
Title (German):           Lösemittelbasierte Nanofaserausrüstung
Acronym:                   Nanofaserausrüstung
Grant:                         IGF 20583 N
Runtime:                     01.07.2019 – 30.06.2022
Contact DTNW: Dr. Thomas Mayer-Gall, Tel.: +49-2151-843-2015, e-Mail: mayer-gall@dtnw.de
Weitere Informationen zum Download: